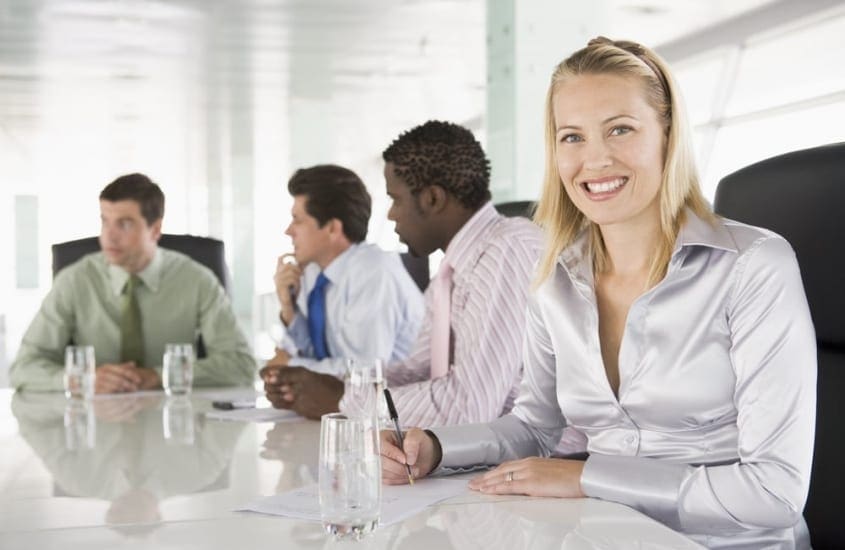 If you're tasked with taking the minutes at your company's next meeting, make sure you're one-hundred per cent confident, says Fiona Hurle, an executive assistant with twenty years of government and corporate experience. "Any less and it will reflect in your minutes and can impact the future outcome of business decisions," she Hurle. She shows you how to take minutes at a meeting with these five helpful tips.
The Right State of Mind
You need to be in the right mindset to take the minutes; after all, you have the important task of recording significant business discussion and decisions. But don't panic, because in its simplest form you are hearing words and recording them. So be calm and have confidence: take a breath, imaginary super hero cape on and head up. You're the minute master!
Prepare for the Meeting
Going into a meeting unprepared is like slashing one tyre and hoping your car drives well. To best prepare yourself, gather the information you 'might' need, such as agenda, meeting papers, attendee names and titles (correct spelling), location of the meeting and whether you need to set up the space.
If there is opportunity, speak with the Chair prior to be clear on any 'unwritten' protocols like where the Chair sits, where key people sit, how they would like to run the meeting and the desired outcome of the meeting.
Next, what tools do you need to help you? Are you handwriting notes or using a computer? Do you have enough paper and pens that work? Is your laptop charged? Can you record the meeting, so you can listen back later?
Then, it's show time.
Be the first in the room, poised and calm, with certainty that you know what to do and do it well. Running into a meeting late will have you flustered, drawing attention to yourself and you may miss key insights or decisions.
Get Down to Business
Minutes are a factual representation of business discussions and decisions. They are not an opportunity to include your opinion or to 'interpret' what you heard. Leaving your emotions and opinions at the door will enable you to be present in the meeting to 'hear' what is being said.
Empower yourself enough to ask direct questions to clarify decisions made, who the action officer is/was, what an acronym means or anything that might have gone over your head. Remember – you don't need to be an expert in the subject matter, just an expert 'recorder'. You can ask these questions at the meeting, depending on your relationship to the meeting or level of involvement with the Chair, or you can ask these questions of the Chair after the meeting before you produce your final minutes.
Don't put pressure on yourself to make your minutes beautifully presented or formatted during the meeting. It is purely a time to capture the information for your final product. Spending too much time on these details will take your focus away from the meeting conversations and you may miss the key decision that will change the future direction of a project or the business.
Produce Your Product
Schedule a block of time within twenty-four hours after the meeting to review your notes, beautify them, ask questions of the Chair if necessary and produce the first draft for review.
If you leave this key task longer you may forget parts of the meeting and what was said compared to what you perceived transpired. Life gets busy and the longer you take to write up the minutes the more resistant you can become to doing it.
The minutes are accountable to the Chair for the actions and decisions that were made in the meeting. So, when you have finished the draft, provide it to the Chair for review and feedback and incorporate changes accordingly.
Delivery and Closing
Now it's time to finish off and deliver the final product. Spend a little extra time and do a thorough check of names, spelling, acronyms, layout and references, as the most obvious things can get missed even with multiple people reviewing.
Ensure you have a clear understanding of where the minutes will be saved or recorded for future access. It might make sense to store it on your computer, but make sure you are aware of the businesses governance for official record keeping of minutes.
To help you strengthen your skills, seek some feedback from the Chair, and potentially participants. What worked well? What could you improve on? Were the expected timeframes met?
Finally, celebrate. You survived. The world kept turning and amongst all that you delivered a service to the best of your ability. Minute taking is not for the faint-hearted but if you have done it once and survived, you can do it again. Just like anything new, it gets easier with time, practice and patience.
Successful Minute Taking: Online Course
If you're still not confident in your ability to produce professional minutes, an online professional development course will help.
Successful Minute Taking is an online professional development program that will provide you with the skills, knowledge and minute taking training required to prepare and write more effective minutes and facilitate meetings.
In this online minute taking course you will learn how to organise and write meeting minutes, report on meeting arrangements and produce minutes that reflect a true and accurate account of the meeting. 
Australian Online Courses
Choose to study better with Australian Online Courses and enhance your personal and professional development. Browse hundreds of industry-approved, flexible online courses covering a variety of sectors. Simply visit us online or contact one of our friendly Learning Consultants today on 1300 762 221.
https://www.australianonlinecourses.com.au/wp-content/uploads/5-ways-to-master-minute-taking.jpg
667
1000
Australian Online Courses
https://www.australianonlinecourses.com.au/wp-content/uploads/AOC_logo.png
Australian Online Courses
2018-06-11 00:00:00
2019-11-01 14:36:47
5 Ways to Master Minute-Taking at Your Next Meeting