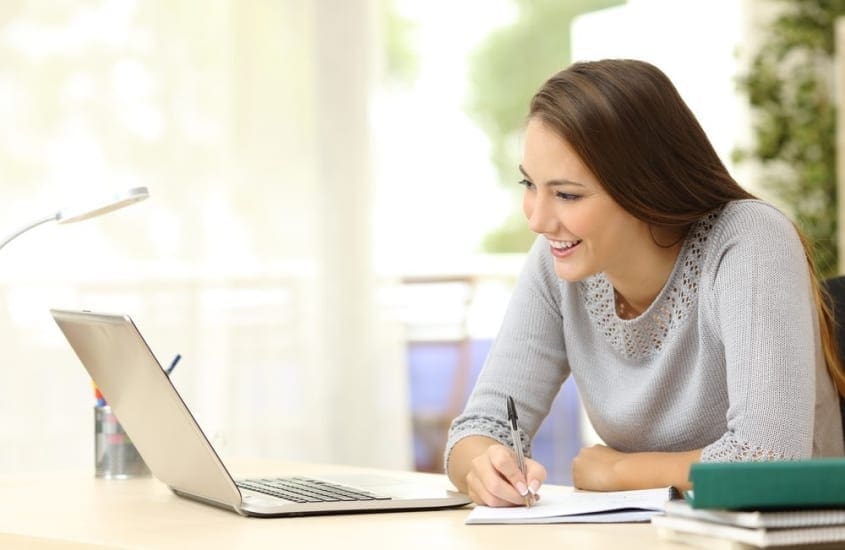 10 Easy Ways to Boost Your Writing Skills
If you're looking for simple ways to improve your writing, whether you're an aspiring novelist, business writer or blogger, you're sure to be inspired by these ten tips.
Read, Read, Read!
Reading other peoples' writing is one of the best ways to improve yours. If it's blogs you aspire to write, subscribe to blogs of interest and read them daily. If it's fiction, read books in the genre you want to write. Who's your favourite author? What genre to they write? This is a good indication of the type of book you should write. Write what you know and enjoy. Download your favourite books in iBooks or if you prefer a 'real' book visit the library or a bookstore and stock up for some holiday reading.
Brush up on Basic Principles of Writing, Grammar and Spelling
If you don't have a solid foundation to build upon your writing will fall down. Ensure you have the basics of English writing, spelling and grammar covered before you embark on a writing project. You can study a short course, such as Improve Your English Grammar with Australian Online Courses to ensure your writing is impeccable.
Join a Writing Group
There are plenty of online writers' groups you can join for support, whether you're writing fiction, blogging or any other form of writing. You can also join a community group of likeminded writers to help inspire and improve your writing.  A quick Internet search with your city and "writing groups" will bring up various options in your area. You can also join writers' groups on LinkedIn and Facebook.
Study a Short Course
There are many professional development courses to improve your writing. These online writing courses are affordable, convenient and can be completed quickly to kickstart your writing practice or career. Australian Online Courses has many writing courses available, including Certificate of Business Writing & Communication, Creative Writing Program, and more.
Edit Your Work
No matter how good a writer you are you're going to make mistakes. Online grammar and spell checkers are excellent tools but they're not fool-proof. Print out a hard copy of your work – if possible – and read it forwards and then backwards to pick up on any missed errors. If you need to brush up on your editing skills, you can study a short course like the Advanced Certificate of Professional Writing and Editing from Australian Online Courses.
Read the Dictionary
Enhance your vocabulary by learning a new word every day. There's the old-fashioned way – simply pick up a dictionary and flip to a random page. Or try an online Dictionary and sign up for their Word of the Day to have it sent to your email. You can also download the Word of the Day App to have a new word sent to your mobile daily – and watch your vocabulary grow! Your writing and verbal communication will improve exponentially if you maintain this habit.
Outline Before You Start
Planning is an important first step in writing. Well planned writing projects save you time and will improve the outcome of your work, whether it's to educate, sell to or entertain your audience. Always start with an online, then research, write and finally edit.
Ask Someone to Read Your Writing
You may miss a critical spelling or grammatical error in your work because you're too familiar with the content. A fresh pair of eyes will ensure your writing is perfect before it goes to print or is live on a website. If you need professional editing services, check out Scribendi to enhance your writing or if you've taken an editing course, like the Advanced Certificate of Professional Writing and Editing, you may also find work as a professional proof-reader.
Use Technology
There's an App for that, of course! Use technology to your advantage to gain some writing time and space. Check out Ommwriter, the perfect place to think and write. Or ZenPen, for minimal distraction and maximum zen.
Create a Writing Space and Time
You'll be more motivated to write regularly if you have a place and scheduled time for writing. Create an area in your home where you feel inspired and are free from distractions. For tips on creating this space read 10 Tips for a Beautiful and Productive Home Office.  There's also advice on how to make time for writing here 5 Ways to Inspire and Make Time for Creativity.
https://www.australianonlinecourses.com.au/wp-content/uploads/boost-your-writing-skills.jpg
667
1000
Australian Online Courses
https://www.australianonlinecourses.com.au/wp-content/uploads/AOC_logo.png
Australian Online Courses
2017-12-11 00:00:00
2021-11-26 15:06:08
10 Easy Ways to Boost Your Writing Skills