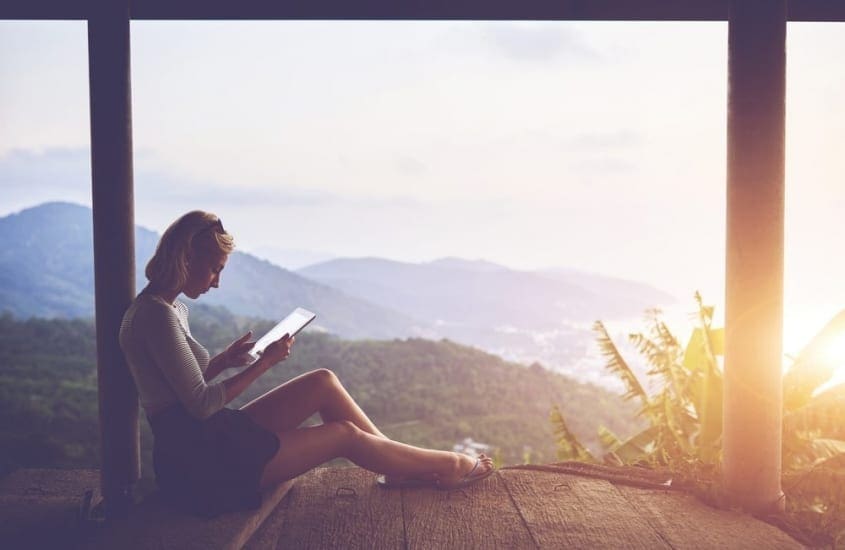 10 Wanderlust-Inspired Careers for the Adventurous
So, you want to travel the world but you don't have a bottomless bank account. Have you considered a career that takes you places – literally? There are many jobs that whisk you off to exotic destinations. Here are our picks for the most practical and exciting careers for living the wanderlust-life.
Flight Attendant
Do you see yourself jet setting around the world? If so a career as a flight attendant is one of the best ways to see the world while being paid a reliable and generous salary. Combining hospitality skills with a love of travel, you'll see some of the most exciting cities in the world as an international flight attendant.
Tour Guide
If there's a more rewarding and exhilarating way to see the world than through the eyes of a tourist, we can't think of one. As a tour guide, you're a professional full-time traveller. You become part of someone's happiest holiday moments and make friends from all over the world. So, if you're a people-person, then a tour guide might be your ticket to the world!
English Teacher
You don't have to be a teacher to teach English overseas (though it would certainly be an advantage). You just need a solid grasp on written and spoken English and certification to teach English as a foreign language. You'll also need a lot of patience!
Interpreter
If you speak another language fluently, then you can use this skill to travel. As an interpreter, it's your job to interpret speech from one language to another. You ensure language barriers are broken down so that two parties can clearly communicate fully in a variety of settings.
Cruise Ship Crew
If sailing is more your style, then life aboard a cruise ship is an enjoyable way to see the world. When your vessel docks at each port there's opportunity to explore new and interesting places. A background or a course in hospitality or travel will give you skills to become a crew member.
Business Consultant
As a freelance business consultant, you can travel the world offering business advice to international companies, from New York to London. Your job can include providing advice to clients on how to make overseas contacts, use exchange currencies, and understand international trade laws to make it easier for companies to buy and sell goods and services in the ever growing, increasingly complex international marketplace.
Au Pair
If you enjoy children, life as a travelling au pair is the perfect career to see the world while making a living. If you can speak the language of the host country – you're able to become an au pair. It's the perfect opportunity to immerse yourself in a new country with board and room covered. You'll have two days off per week to explore! If you're lucky you might even be able to go on holiday with your host family and see some of the world's most beautiful destinations.
Virtual Assistant
As a virtual assistant, you can work virtually anywhere. All you need is a portable office, including laptop, mobile phone and of course reliable internet connection and power –  and you're all set to jet-set. If you can leverage your current skills and situation and find overseas clients you're half-way there. Next, check on the types of visas available in your country of choice. Do they have a business visa option? Do they have tax relationship with your country, or will you pay double tax? It's an adventure to take your virtual self on safari, but make sure you dot the i's and cross the t's – consult with an international tax accountant or lawyer.
Cocktail Mixer
There's a calling for nightlife all over the world! This has got to be one of the most social jobs that exist. If you've got a passion for cocktails, bars and drinks the hospitality industry could appeal to your transient nature. So, take your people skills overseas by combining it with your ability to mix a mean cocktail or pour a glass of wine and you've got your ticket to the world. If you don't have these skills, take a hospitality course and get your passport in order – embrace uncertainly as sometimes it breeds opportunity!
Travel Writer
If you've got a way with words, why not combine it with a love of travel. In an era where online blogs get more views than major magazines, anyone can be a publisher. You can become a freelance travel writer or work for international publishing companies sharing your travel adventures. Sharpen your writing skills with a short course and get your own website up and running – then take off to the most spectacular destinations on Earth and share your experience with the world.
Study a Career That Takes You Around the World
When you study with Australian Online Courses you can rest assured that your learning is in good hands. Our courses are developed and written by industry experts to ensure course content is current and offers the best possible employment prospects.
We embrace your transient nature. Our state-of-the-art eLearning platform is designed to enable flexible delivery, so you can study anywhere and at any time that suits you.
You also have access to dedicated tutors and supportive administration staff seven days a week to ensure you succeed.
As a further commitment to your success, Australian Online Courses also provide all students with a free Graduate Careers Package, to help you find work after you have completed your course.
Certificate of Business Administration – Virtual Assistant
Certificate of Editing and Proofreading
Certificate of Education Support – Early Childhood
Certificate of Hospitality Management
Certificate of Food and Beverage Service
Certificate of Sommelier Service
Professional Practice for Consultants
https://www.australianonlinecourses.com.au/wp-content/uploads/10-wanderlust-careers.jpg
667
1000
Australian Online Courses
https://www.australianonlinecourses.com.au/wp-content/uploads/AOC_logo.png
Australian Online Courses
2017-07-18 00:00:00
2021-11-26 13:55:04
10 Wanderlust-Inspired Careers for the Adventurous